The USQ Library Makerspace has been working with Toowoomba Hand Therapy on a collaborative project making prosthetic fingers. The patient pictured below lost his finger in a workplace accident, and wanted a prosthetic to continue playing the guitar. This 3D printed prosthetic is made with a combination of hard PLA and soft TPU plastics for a comfortable fit. The string attached to the wristband lets the finger bend back and forth to 'grab' with wrist movement. The cost of making a prosthetic prototype like this is under $5.00, but takes some time to assemble. The design is made by Knick and can be found on Thingiverse.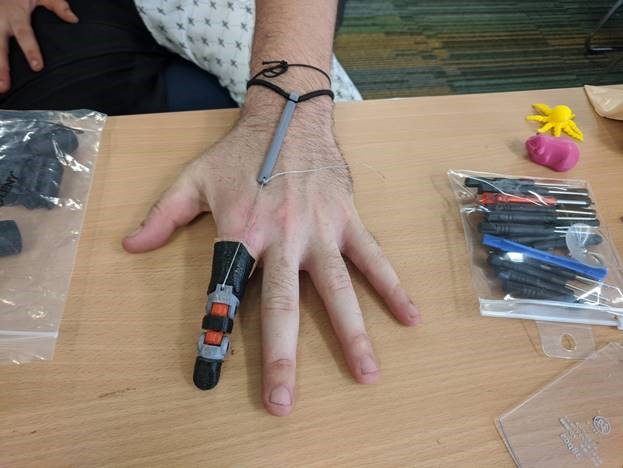 After the swelling on the injury went down, the first prototype was upgraded to include a custom socket for a better fit. Toowoomba Hand Therapy provided body-safe PinkySil casting silicone, which was used to create a cast of the patient's finger stump. A positive of this was made using plaster of paris, and this was 3D scanned using the USQ Makerspace Einscan SE 3D scanner. The version two finger is pictured below, and has a cut away inside the socket to exactly match the 3D scan.
The exciting thing about using 3D printing for this type of project is that the user can design and create their own improvements and hack on the design to suit. Creating budget, bespoke prosthetics with 3D printing is a huge untapped area. Patients can go and create something custom cheaply and continue to improve the design.